Connect Early Education Centres co-construct rich curriculums that take into account the development stage and fascinations of the individual children.
Our centres allow children to explore their curiosity and creativity through a play-based, inquiry led program. Our educators skilfully build on children's development, knowledge and capability through intentional teaching strategies. All of this is documented through the online system "Storypark". This allows families real time engagement in their children's learning and families can even add their own stories of learning that happen at home, give input into our programs and touch base with individual educators.
At Connect we love learning from our surrounding community. This may mean community members visiting our centres, such Uncle Lex Dadd, local school representatives and community helpers or the children going on excursions. You'll always know about and be asked to agree to your child's involvement in excursions. This includes viewing thorough risk assessments and being asked to sign detailed consent forms.
We believe that quality interactions between our educators and children make all the differences. That's why we aim to exceed minimum professional ratios of team members to children. We employ appropriately qualified and experienced team members, along with trainees, under the direction of the Centre Director and Centre Educational Leader.
Our education team is supported to be the best educators they can be by having access to ongoing mentoring and professional learning. This includes participating in research projects with partnering universities, attending national conferences, being supported by our in-house mentors, and having dedicated time to come together as a team.
The Connect Early Education Difference
At Connect Early Education Centres, we understand that affordability and flexibility are important in supporting families to access early education for their children.
That's why we've implemented a range of measures to ensure you and your family get the best possible experience:
1. Say Goodbye to Public Holiday Fees
At Connect Early Education, you won't be charged when our centres are closed on these days.
2. Affordable Daily Fees
We're committed to making quality childcare affordable for every family. Our daily fees that qualify for the Child Care Subsidy are all below the Child Care Subsidy hourly cap rate of $13.73. We're here to ensure that quality early education doesn't break the family budget.
3. Session Flexibility
We understand that every family has unique needs and schedules. To empower you to make the most of your Child Care Subsidy, we've introduced three daily sessions for our Longer Day Programs:
11-hour session: Enjoy a full day of education and care.
10-hour session: 7:30am to 5:30pm.
9-hour session: 8am to 5pm
You can use a mix of regular session bookings throughout the week to align with your family's needs. For instance, on Mondays you may only need a 9-hour session but on Tuesdays a 10-hour session is a better fit.
At Connect Early Education Centres, we're creating an environment where children can learn, grow, and thrive, all while offering families the support and flexibility they need.
Join our waitlist today to discover the Connect Early Education difference for your family.
National Quality Framework
The National Quality Framework (NQF) introduced a new quality standard in 2012 to improve education and care across long day care, family day care, preschool/kindergarten, and outside school hours care services. Connect Early Education centres adhere to this framework. To find out more about the NQF click here.
Our Early Childhood Centres
Possum Early Childhood Centre, Hazelbrook
Our first ECEC Service was Possum. Possum is a 20 place long-day care centre based in Hazelbrook which caters for children aged 3-5 years. Possum was rated as exceeding the National Quality Framework in May 2021. Possum has a long history of high quality educational programs that use a foundation of respectful relationships with families and children.
Possum implements a slow pedagogy, that creates a sense of calm and creativity within its learning environment, and makes the most of its beautiful natural surroundings. With a path out the back to Gloria Park, regular walking excursions are valued part of the Possum program.
They are also well respected within the community for their approach to providing an inclusive program for children of all abilities.
For more information contact the Centre Director,
Christie Evans on 02 4758 9977
Hazelwood Early Childhood Centre, Hazelbrook
Hazelwood is a 52 place long-day care centre based in Hazelbrook and has been in operation for over 30 years. The Centre joined Connect in 2011, and was the beneficiary of a collaborative project between the Commonwealth Government and Blue Mountains Council to totally rebuild the centre in 2014. Hazelwood was rated as Meeting the National Quality Framework in April 2020.
Hazelwood has a strong reputation for their commitment to partnering with families, recognising the privilege it is to be trusted with education and care of a family's greatest treasure, their children. With an onsite cook and dedicated dining room, Hazelwood provides appealing and nutritious freshly prepared meals throughout the day, without the important work of play being disrupted. Although the centre's three classrooms are set by age groups, the team recognise the importance of children moving between these spaces as they need.
For more information contact the Acting Centre Director,
Joemol Pulikkal on 02 4758 7382
Possum's Patch, Mt Victoria
Possum's Patch, Mount Victoria is a 24 place long-day care centre that joined Connect in 2014. Our centre has served the Mount Victoria, Hartley, Mt Wilson and Blackheath communities for over 20 years. It operates out of the original sandstone Mount Victoria school house, co-located with Mount Victoria Public School.
Possum's Patch has our largest outdoor space, with both a front and backyard. These large spaces along with encouragement from our education team support children to build a love of outdoor play. All weather play is supported through the provision of splash suits and children have access to age appropriate risky play opportunities. Inside you'll find that our educators have made use of the unique spaces this building offers, with interesting playscapes being provided in nooks and around corners, provoking children's curiosity.
Possum's Patch, Mount Victoria was rated as Meeting the National Quality Standard overall, with exceeding ratings in the Educational Program, Respectful and Equitable Relationship with Children and Professionalism, in July 2022.
For more information contact the Centre Director,
Jade Tabada on 02 4787 1202
Lapstone Pre School, Lapstone
Lapstone Preschool is a 36 place preschool providing education for 3-6 year olds. Lapstone was rated as exceeding the National Quality Framework in October 2022. Our program has been operating in Lapstone for over 50 years and in 2019 joined Connect. We are situated in a beautiful bush surrounding where children's creativity, knowledge and self-esteem is nurtured.
Boasting a large main classroom that provides many inspiring loose parts and a dedicated Bush Kinder Base Camp classroom, this centre allows for all children of diverse abilities to feel confident, valued and included in our preschool program. In our beautiful bush location we have our own access point to Darks Common and will be implementing a Bush Kinder program in 2023.
As a licensed preschool space, our program is eligible for the Affordable Preschool Program, which provides 15hrs of fee free preschool, which prioritises preschool access for children the year before school.
For more information contact the Centre Director,
Rhonda Kasalo on 02 4739 2606
Bunya Early Childhood Centre, Winmalee
Bunya Early Childhood Centre is Connect's largest centre, a 54 place long-day care centre based in Winmalee. Bunya has been a staple service supporting the families of Winmalee, Hawkesbury Heights and Springwood for over 30 years.
Bunya Early Childhood Centre provides education and care for 54 children per day from 6 weeks of age to 6 years.
The Bunya team aim to work together with families and other community organisations to provide a high quality program in a safe and nurturing environment.
The children attending the centre participate in a program based on the National Early Years Learning Framework. This program is designed specifically for each child's developmental stage and interest levels.
For more information contact the Acting Centre Director,
Danielle Grosse on 02 4754 3065
Collaboration with the Blue Mountains Aboriginal Cultural Resource Centre
We are delighted to be able to collaborate with the Blue Mountains Aboriginal Cultural Resource Centre (ACRC) to embed Aboriginal Cultures, Knowledges and Languages into our everyday practice. We are privileged to be supported by Uncle Lex Dadd who is our Dharug Teacher. Uncle Lex provides Cultural guidance to Connect and spends regular time in our Early Childhood Centres. Uncle Lex's visits are always a highlight for both children and our staff teams. These regular visits allow for authentic relationships to occur and knowledge and understandings to be built over time. It's important for Connect that respect and value of Aboriginal knowledge and culture is an embedded part of our curriculum, not just content we visit once or twice a year.
We thank Uncle Lex and the Blue Mountains Aboriginal Cultural Resource Centre for so generously sharing Knowledges, Languages and Cultures with our Connect community.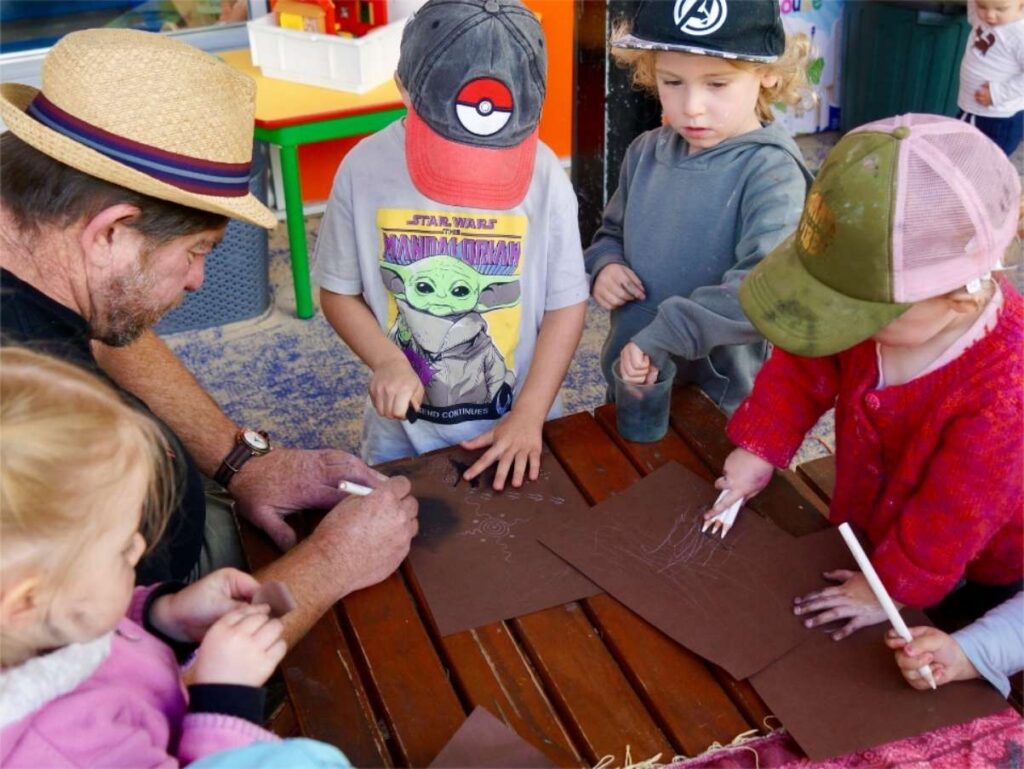 "It has a real caring and friendly atmosphere with a huge focus on outdoor play and learning."
LAPSTONE PRESCHOOL FAMILY