We use evidence, best practice guidelines and lived experiences of children and families to inform our work. We have some key resources we use signposted below.
In 2021/2022 we took part in a Practitioner Research Project ConnectED. The work from this year long project was presented at a community event.
Dr Andi Salamon from Charles Sturt University who is also a Connect Board Director gave a keynote which gave really interesting insight into how practitioner research has informed her research. We've received many requests to organise for Andi to present her research on babies and social and emotional intelligence in full- so watch this space.
The academics Assoc. Prof Christine Woodrow (Western Sydney University) and Assoc. Prof Linda Newman (University of Newcastle) who facilitated the project gave a fantastic presentation on the model and impacts of practitioner research. This model of practitioner research has been implemented in Chile, Western Sydney, Newcastle and now the Blue Mountains.
The real highlights of the afternoon were our own Connect Research teams which were:
Rhonda Kasalo and Joanne Roe from Lapstone Preschool who presented "Literacy in the Leaves"
Danielle Grosse and Macaila Passmore from Possum Early Childhood Centre who presented "Reading to the Crowd"
Simone Chaffey and Jake Small from Possums Patch, Mt Victoria who presented "Climbing High with Literacy"

You can download the research papers here.
Climbing high with literacy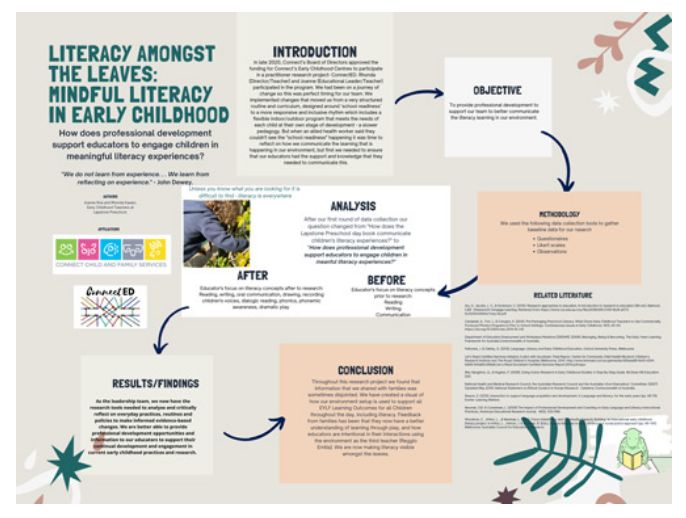 Literacy amongst the leaves: mindful literacy in early childhood